January 28th, 2013 by
admin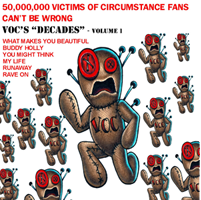 Hey Everybody!
2012 came and went in a flash. We recorded, we toured, we kicked some ass! Hopefully some of you got to see us say goodbye to 2012 at our New Years Eve Show with Less Than Jake.
For 2013 we're gearing up for another action-packed, fun-filled year and we promise to keep you posted on the details as they develop.
For the first part of the year we plan to keep the schedule light so we can write and record our 4th studio album. If all goes well we will have a shiny new album out for summer!
Whenever we start writing new material we have a habit of laying low for a while. This time we wanted to give our fans a little something to tide them over before we slipped away to start working on new songs. If you haven't seen it already, head over to the vocska.com store and check our new EP "Decades":.
The new release features a song from each era in rock history. Buddy Holly to Weezer – 50′s pop to 90s grunge and beyond.
While we were working on songs for the EP another little unexpected surprise came out of it, quite by accident. We listened to hundreds of records and learned dozens of songs. Finally we narrowed it down to the 5 songs that would end up on the EP. But, when we were all finished, there was one more song that we had so much fun re-working that we just couldn't let it go. So, while it doesn't really fit the EP, we didn't want to see it lost in the VOC vaults forever. That little gem is "What Makes You Beautiful" made famous by a group of young men called One Direction but made cool by us.
Stay Tuned,
The VOC
---