Victims of Circumstance
In the fall of 2005, two veterans of the Florida Punk Scene, guitarist Michael Smyth and drummer Glenn Stewart were working together at a debt settlement company owned by Stewart. With passions leaning very heavily toward their music, the two found themselves returning to the office late at night to work on songs that would eventually become Do It Yourself, their debut album.
"We had a full drum kit, a half-stack, a bass rig and half-a-dozen guitars lying around Glenn's office", says Smyth. "We just kept the door closed and no one seemed to notice." Eventually the boys converted some unused warehouse space next to their office into a rehearsal room. The space grew and grew until they had actually built a state-of-the- art recording studio.
Buoyed by that accomplishment and with of a ton of original songs in their back pocket, they decided it was time to form a band to flesh out all the creative ideas they had brewing. So they brought in bassist Lindsey Pittard, saxophonist Jay Atheney, and Devin Johnson on trumpet to complete the line-up. Blending pop hooks with their distinctive fusion of punk and ska, Victims of Circumstance quickly made a name for themselves among the sea of Central Florida bands, both for their energetic performances and their commitment to the local scene.
Victims of Circumstance tapped the talents of Tim "Johnny Vegas" Burton of the Mighty Mighty Bosstones to produce their debut album Do It Yourself." When the album was released in late 2007, the band locked down airplay on over 150 independent and college radio stations and a healthy amount of media attention.
Hot on the heels of the in-store date, the boys supported the release with gigs with the Pietasters, Big D and the Kids Table, and, most importantly, with the Mighty Mighty Bosstones at the revival of their legendary Hometown Throwdown in Boston. Road warriors in spirit, they continued to play in the Southeast throughout 2008 opening for bands such as Time Again, Whole Wheat Bread and The Voodoo Glow Skulls.
Under the watchful eye of Big D and The Kids Table Bass player Steve Foote in the producer's seat, the band entered the studio again in early 2009 to record the follow-up. The resulting album, Roll the Dice, will be released in August of 2009. Jam-packed with tight punk, ska and pop tracks with melodic hooks aplenty, this album pushes the band even further, exploring different rock styles and rhythms. From the get-go of opening track "The Final Flight of D.B. Cooper" that eases in with instantaneously-infectious punk rhythms to the celebratory skank of "This Riot Used To Be A Party" to the cheekily-named (but not too far off) "Number One Hit Single", their second album packs energetic melodic ska/punk/pop into fifteen tracks.
Roll the Dice was produced by Steve Foote (Big D and the Kids Table) and was released on August 25, 2009 on Financial Records.
2011 featured their first European tour in June, which sent them to the UK, France, Germany, Poland, and Belgium. While on tour, the foundation for the music which would become their third studio album Acupunkture began to take shape. When they returned from Europe they hit the studio hard and completed the album, which was released on October 25th, 2011.
VoC will be returning to the UK and Europe in July/August of 2012, where they will be playing Rebellion Fest (the world's largest Punk festival) and playing shows with the likes of Rancid, Social Distortion, and NOFX.
A fourth studio album is also in the works.
The All Night Wolves
When Johnny "Vegas" Burton of the Mighty Mighty Bosstones moved to Jacksonville Florida a few years ago he made a lot of friends in the local music scene. So he set out to start what he called a "Cocktail Ska" band in line with his B-Tone roots. But the Bosstones were always as much a hard rock band as a ska band and he soon found himself inspired by the sound of southern soul and southern rock.
Johnny plays sax in the Bosstones but he has always been a guitar strummer, so he picked up a bass and started writing tunes. It took a while, fits and starts, members coming and going, late night gigs, dive bars, clubs, road houses, heckling and heavy drinking but eventually he put together a band made up of the best players in town. And it is definitely not a one man show. Guitarist Danny Kelly is a veteran of the scene and played in local ska/punk legends Happy Hour. Singer/Pianist Pilar Arevalo is a song writer and recording artist who has been a popular figure in the scene for years. Drummer John Citrone is a multi-faceted musician, songwriter and producer. Bert Mingea is a gifted guitarist adept at any style and has played just about every road house, juke joint, night club and barroom in North East Florida. Lead Singer Lindsey Know has been a star on the scene since she moved here from Michigan eight years ago.
Aside from the gigs the band has been working on an album for the better part of six months. Co-produced by Burton and Citrone, the album is slated for release in February.
Sit On It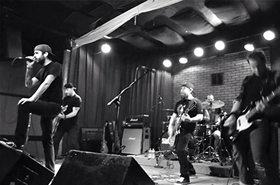 "Sit On It is not crap." -jaystone, DyingScene.com